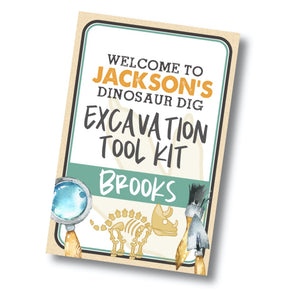 DINOSAUR DIG EXCAVATOR KIT TAG
3x4.5" Tag for your dinosaur dig excavation kits!
· minimum order 15

The Excavation Kits make the perfect party favor for your little Paleontologists!


**Props included in photo are just for a visual only; not included in listing.  Listing is for the tags on the kits.

*Disclaimer: The Hunny Bee Paperie logo will appear on the back of every product.