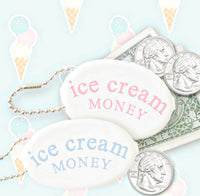 Ice Cream Money · Rubber Squeeze Pouch
This vintage-inspired rubber coin pouch is the perfect addition to your child's book bag! It will help them be responsible and keep up with their weekly ice cream monies!
Click to Shop
NEW Colorblock Initial Calling Cards
The NEWEST product has launched and this one, YOU get to be the designer! Simply select from 24 colors available to pick your perfect color combo!
Shop Colorblock Cards Here
FEATURED COLLECTION · back to school!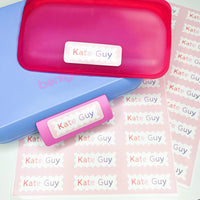 "You can label this, or you can label that"
With our N E W water resistant tags, organizing & personalization has just become easier! With 2 styles and MANY designs to choose from, you are certain to find the perfect stickers to keep you and your family personalized! Check them out here!
SHOP ALL WATER RESISTANT LABELS
EVERYONE'S FAVORITE RIBBON IS NOW AVAILABLE!
REVIEWS
I have now ordered these twice because they are simply SPECTACULAR!!! Beautiful packaging and perfect gift!!!! They are so beautiful, I will definitely be ordering more from this company

Erin, on the Alphabet Flash Cards
Literally the best merchant I've ever done custom business with on Etsy.  She made my dreams come true by creating something so unique and customized that I will cherish for a lifetime!

RoxAnn, on custom designed stationery
We love our custom notecards that Michelle made for us. We looked at hundreds of designs and Michelle's was by far the best. She graciously created the notecards we needed using her beautiful design. Thank you Michelle!





Colette, on custom notecards
Love love love these and appreciate that she gives options for custom items. Great service and have placed 2 orders within 3 months! Will be ordering again!

Sharon, on Valentine's Tags
The perfect experience! I absolutely love the invitations HBP customized for us! Excellent customer service, quality products, and quick turnaround!

Molly, on custom birthday invitation
I'm so obsessed with my new tags! They turned out so cute. Michelle (seller) is so easy to work with and always gets back to me quickly. I'm always so happy with my purchase and excited when my hunny bee package has arrived 💙💙💙 can't wait to use my newest purchase 👏🏻👏🏻

Michelle, on sibling calling cards
The calendars and gift tags were perfection!!!! Cannot wait to give these out this Christmas! My go to gift each year!



Ashley, on desk calendar
As always the most perfect job, Michelle always goes above and beyond, always delivered quickly. My custom tags are beautiful!



Blake, on Christmas gift tags
Absolutely beautiful note cards! Both the colors and the font are sweetly elegant! We reordered minutes after receiving. They were so pretty we just had to have more!

Joy, on custom stationery set